I T A L I A N P O O L T I L E
P O O L T I L E M A N U F A C T U R E R
Manufacturer of Fine Italian Porcelain Swimming Pool Tiles
Our porcelain pool tiles are produced in Italy with the highest quality in the field. Our products comply and exceed industry standards such as acid resistance, water absorption, no discoloration under direct UV rays, breaking strength amd frost resistance.
Using latest digital technology for the very best results, our offerings are sure to attract your customer attention. Superb Italian design paired with Italian manufacturing ability is the best possible combination for the most contemporary and attractive looks in the whole industry.
With more than 30 years of experience in the field, we are able to provide the swimming pool business community high quality products, unmatched service and reliability. Our standards are as high as yours.
THE BEST PRODUCTS FOR YOUR NEEDS
From commercial to residential, we have the widest range of porcelain pool tiles any supplier can offer.
Glass mosaics, porcelain mosaics, pool accessories, pool features, deck porcelain 2cm pavers with matching copings fully compliment our pool tile offering.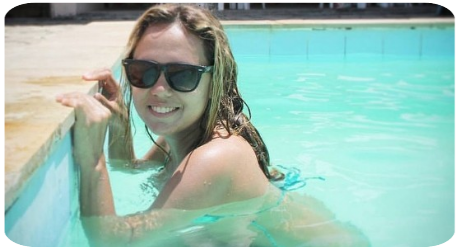 Petite to large residential pools, we have the best options and looks to please all your customers.
6X6" - 15x15 cm solid light blue featured in pool above.
COMMERCIAL
We have the best selection for your small to large commercial pool projects, from 6x6" - 15x15cm pool tiles to 3/4" - 2cm thick porcelain pavers to pool copings to satisfy even the most demanding specification.
ACCESSORIES
We offer a full selection of pool accessories such as
water features,
fountains, decos to fully decorate your customer pools.